Our Team Of Instructors
Jenny and friends..~~~~~~~~~~~~~~~~~~~~~~~~~~~~~~~~~~~~~~~~~~~~~~~~~~~~~~~~~~~~~~~~~~~~~~~~~~`
Background on our DELTA ACCREDITED C.G.C. INSTRUCTOR
and TRAINING COORDINATOR
~ Kathy Volkmer ~ CERTIFICATE IV~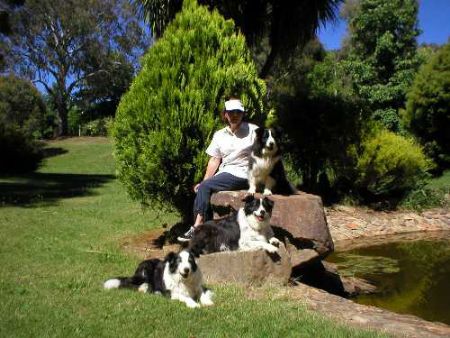 Kathy and her beautiful Border Collies
With an above interest in dogs and their training, Kathy completed the first C.G.C. Course in 1997/98 and upgraded to Certificate IV in 2001/02.
Kathy has been one of those instrumental in ensuring that Ovens Valley Canine Club Inc. runs on "positives", and is proud of the very good results it has achieved.
Kathy also runs "Puppy school" at the Ovens and Kiewa Veterinary Clinic at Mrytleford, and believes that truly positive reinforcement training is "do-able" for her and those she teaches.
Kathy's School is called "BRIGHT DOGS" and maybe contacted via her email address on this site.
~~~~~~~~~~~~~~~~~~~~~~~~~~~~~~~~~~~~~~~~~~~~~~~~~~~~~~~~~~~~~~~~~~~~~~~~~~`
~~~~~~~~~~~~~~~~~~~~~~~~~~~~~~~~~~~~~~~~~~~~~~~~~~~~~~~~~~~~~~~~~
ilma has been successful with both Show[Breed] Rings over many years and has also trained with success to C.G.C. TITLE with her beautiful English Sp
A stalwart of the O.V.C.C. since it's formatio, is an experienced and able Instructor in PO
SITIVE TRAINING METHODS
Background on existing Instructor and Delta Accredited CGC Instructor

~ Di Costello ~Certificate IV
Di completed her Certificate IV in Companion Animal Services in July 2010
and is now a Delta Professional Trainer and assessor
Di also has Certificate IV in Occupational Health & Safety
Dianne has been an instructor at Ovens Valley CanineClub Inc for many years and has trained her own dogs
Bear and Timmins both Stumpy Tail Cattle dogs with great success using
Positive reinforcement Training
~~~~~~~~~~~~~~~~~~~~~~~~~~~~~~~~~~~~~~~~~~~~~~~~~~~~
Background on existing Instructor
~ Neilma Eames ~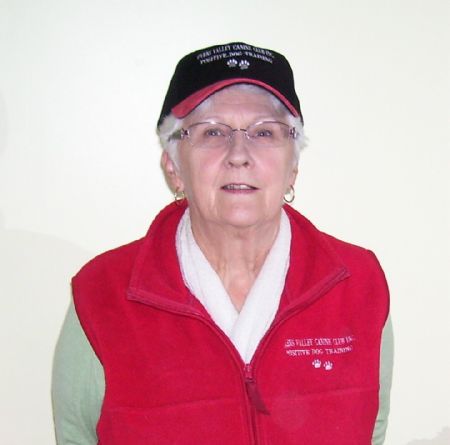 Neilma has been a volunteer instructor at Ovens Valley Canine Club for over fifteen years and is experienced in
Conformation Showing, Obedience, and agility, training her three English Springer Spaniels Bronson - Teegin and Hamish along withJack Russell "Jac" with great success using.
Positive reinforcement Training
~~~~~~~~~~~~~~~~~~~~~~~~~~~~~~~~~~~~~~~~~~~~~~
Background on existing Istructor
~ Colleen Davis ~
Colleen has trained her Jack Russell Jackie O, using Positive Reinforment Training with great success
Jackie O has her CGC certificate and is well on her way to competing in obedience and agility trials
She is also a Therapy Dog and currently works with the disabled.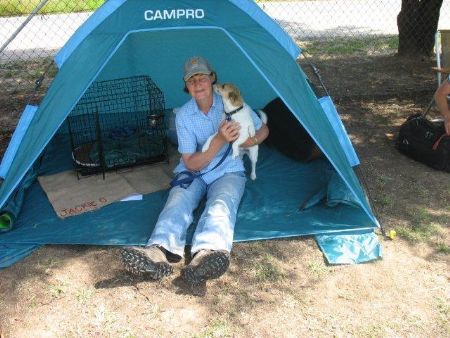 ~~~~~~~~~~~~~~~~~~~~~~~~~~~~~~~~~~~~~~~~~~~~~~~~~~~~~~~~~~~~~
The Pet's Bill of Rights
1.We have the right to be full members of your family. We thrive on social interaction, praise, and love.





2.We have the right to stimulation. We need new games, new toys, new experiences, and new smells to be happy.





3.We have the right to regular exercise. Without it, we could become hyper, sluggish...or fat.





4.We have the right to have fun. We enjoy acting like clowns now and then; don't expect us to be predictable all the time.





5.We have the right to quality health care. Please stay good friends with our vet!





6.We have the right to a good diet. Like some people, we don't know what's best for us. We depend on you.





7.We have the right not to be rejected because of your expectations that we be great show dogs or show cats, watchdogs, hunters, or baby-sitters.





8.We have the right to receive proper training. Otherwise, our good relationship could be marred by confusion and strife - and we could become dangerous to ourselves and others.





9.We have the right to guidance and correction based on understanding and compassion, rather than abuse.





10.We have the right to live with dignity...and to die with dignity when the time comes.
Author unknown
~~~~~~~~~~~~~~~~~~~~~~~~~~~~~~~~~~~~~~
~~~~~~~~~~~~~~~~~~~~~~